When Mr. Jones, a young landlord in his early thirties, decided to run a small business, he had one problem. He didn't know any accounting, and he worried that employing an accountant, or outsourcing his accounting needs would erode all his profits. He decided to customize his personal finance software, Boachsoft Finance, to meet his business needs, and he has been smiling ever since then.
Originally created for managing personal and home finances, Boachsoft Finance can also be used to manage a small business. Boachsoft Finance does not use any accounting jargon, so you can use it for cash basis accounting. In contrast to cash basis accounting, accrual basis accounting recognizes expenditure when it is incurred and revenue when it is earned. So, for example, when someone purchases inventory, whereas many will record it immediately as an expenditure, accountants, who can only use accrual basis accounting, record it as an asset and only record it as an expenditure when it is sold. You can only use Boachsoft Finance for cash basis accounting.
Make Sure Boachsoft Finance Is Appropiate
Although you can use Boachsoft finance to manage many small businesses using cash basis accounting, Boachsoft Finance isn't ideal for many small businesses. However, the creativity of some never ceases to amaze me.
Boachsoft Finance has not got an inventory tracking module. If you need to track significant volumes, then Boachsoft Finance would not be right for you. It cannot automatically decrement inventory and create purchase orders when necessary. Boachsoft Finance is not appropriate for business owners who need to track assets other than cash, accounts receivable, or investments, such as furniture and machinery. It, however, has what you need to track income and expenses, create budgets, reconcile accounts, track accounts and transactions denominted in foreign currencies, run daily reports, and forecast your finances.
Create Business Categories
In order to use Boachsoft Finance to manage your business finances, first create a new file in Boachsoft Finance. Select your base currency, the currency you will use for most of your transactions. When creating reports, transactions in foreign currencies will be converted to your base currency. When done, select a country in the banking screen that appears. This will include most, if not all, of the financial institutions available in your country.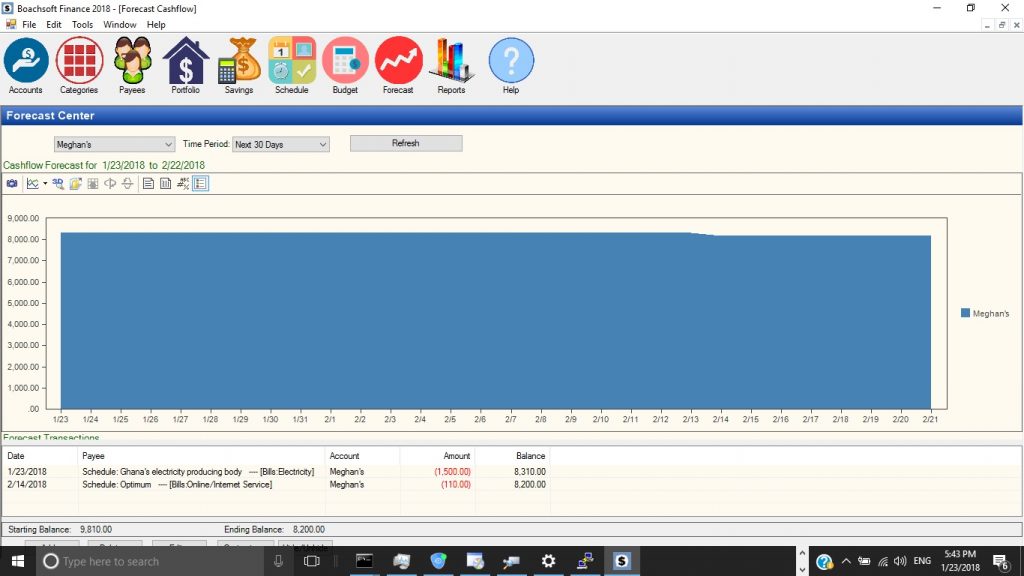 When done create categories for your business. When you enter transactions into the register of an account in Boachsoft Finance, you will have to assign a category to it. Categories help you organize your expenses and income for reporting purposes. The software will usually have some categories. However, these categories are for personal finances, and so aren't appropriate for business finances. Create as many categories and subcategories as you wish.
Create Payees
In addition to categories, when entering transactions into your account register in Boachsoft Finance, you can assign payees to each of them. This will help you to quickly locate transactions. Aside this, you can create excellent reports, just when you need them. There is no limit to the number of categories or payees that you can create in the software. You can add them later if you do not wish to add them now.
Create Accounts
Now that you have your categories and payees setup, you are ready to setup your accounts. You can do this from the home screen, but before you do this, download the latest exchange rates. Do this frequently. For reporting purposes, anytime a transaction in a currency other than your base currency is entered, it is converted to your base currency and stored at the prevailing exchange rates. This is because exchange rates change. If the exchange rates are wrong, the wrong value will be stored, and this will give you erroneus reports. For example, if your base currency is the United States dollar, a transaction entered into an Argentine Peso account will be converted to US dollars and stored. Later when you run reports, the US dollar values will be used.
You can create a cash account, a bank account, a credit card account, an investment account, as well as a loan account. You can create as many accounts as you desire.
Create Scheduled Bills And Deposits
Every business needs to pay bills, and collect some revenue frequently. To help you do this easily, schedule a bill. For example, if you need to pay for web hosting costs monthly, schedule a bill. When it is due you, you can choose to have it entered into your register automatically, or have a reminder pop up.
Run Reports Daily
Now you are ready to run your business. You can now optionally create a budget for your business. Each day, as revenue is earned and bills are incurred, enter them into the register. You can create a report any time. There are several reports available including budget actual report, income-expenditure report, net worth report, and so on that you can use to illuminate your finances.
From the above, it should be clear that one can run a small business without learning accounting jargon or bookkeeping. Later, when the business grows, the bookkeeping could be outsourced, in order to generate good accounting statements according to the generally accepted accounting principles (GAAP). You could also combine Boachsoft Finance with other software, such as a point-of-sale software, point-of-rental software, landlord software, work order management software, or repair shop management software in order to manage your small business effectively.
---
Boachsoft Finance is an excellent personal finance software which can also be used to manage the finances of small businesses. It is also called home budgeting software.
Boachsoft Landlord is an excellent landlord software. It is also known as property management software.
---
Credit: Boachsoft Founder and CEO: Yaw Boakye-Yiadom (Pronounced Yiaw Bwachi-Yiadom)